Introducing SoftWave Tissue Regeneration Technology
If you are experiencing acute or chronic pain from injury, arthritis, back pain, diabetic foot ulcers or other bodily dysfunctions, our patented SoftWave Tissue Regeneration Therapy can alleviate your pain and promote healing. SoftWave uses advanced technology to reach an injured area at the cellular level to successfully turn on the body's natural healing process. To schedule an appointment to learn more about SoftWave TRT, call 843-971-0540.
What is StemWave Therapy?

SoftWaves are patented, unfocused, electro-hydraulically produced acoustic (sound) waves that travel at 3355 mph to help heal damaged tissues. It is a FDA CLEARED, NON-INVASIVE and DRUG FREE therapy for connective tissue activation, improving blood supply and chronic diabetic foot ulcers.
What does it do?
DECREASE INFLAMMATION
INCREASE BLOOD FLOW & CIRCULATION
ACTIVATES YOUR OWN STEM CELLS TO MIGRATE TO THE TREATED AREA
REDUCES ACUTE AND CHRONIC PAIN
BREAKS UP CALCIFICATION AND SCAR TISSUE
PROMOTES COLLAGEN FORMATION
ACCELERATES WOUND HEALING
REPAIRS AND REGENERATES TISSUE

What conditions can SoftWave be used on?
Any condition where inflammation or decreased blood flow is present:
Knee Pain Rotator Cuff Plantar Fasciitis
Hip Pain Arthritis Diabetic Foot Ulcers
Achilles Tendinopathy Meniscus Damage Sprain/Strains
Shin Splints Overuse Injuries Scar Tissue Areas
Back Pain Radiculopathy Sciatica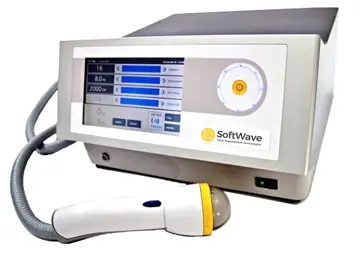 The physics and the science
SoftWave's OrthoGold 100  is an advanced shock wave device using electrohydraulic spark gap technology. Its patented design features a parabolic reflector applicator that produces highly effective, low-intensity unfocused shock waves. The applicator spreads energy to a large area of both superficial and deep tissue soliciting a biological response to initiate the body's natural healing process.
What to expect
The procedure averages 10-15 minutes but may be longer depending on treatment area and diagnosis. A gel is applied to the surface area to be treated. The applicator produces pulses as the clinician moves around the treatment area. During therapy, communication with the provider is necessary to identify treatment areas and monitor progress. To schedule an appointment to learn more about SoftWave TRT, call 843-971-0540.
Can this be used after a joint replacement surgery?
Yes! It is safe to use following a joint replacement or back fusion.
Does my insurance cover this therapy?
Not at this time but we are optimistic it will be in the future.
This therapy has been featured on "THE DOCTORS" TV Show. It is also utilized by the Cleveland Clinic, Northwestern Medicine, Los Angeles Lakers, New York Knicks, Pittsburgh Steelers, University of Pittsburgh, Carolina Panthers, Chicago Cubs, Cleveland Indians, Brooklyn Nets, and Sheppard Center for Spinal Cord and Brain Injury.
To schedule an appointment to learn more about SoftWave TRT, call 843-971-0540.